All the citizens and permanent residents of Canada have till next Tuesday to notify IRCC of their desire to sponsor their parents and grandparents.
The Parents and Grandparents Program (PGP) expression of interest started on October 13. It is scheduled to close on November 3 at 12 pm EST.
This program will help parents and grandparents get Canadian permanent residence and ultimately citizenship.
IRCC will organize a lottery inviting a maximum of 10,000 sponsors to submit their PGP applications.
How to Apply By November 3, 2020?
1. Submit an online sponsorship interest form. This will help you get a spot in the pool of candidates when IRCC holds its lottery.
2. Wait for the result of the lottery. IRCC will contact you if you are one of the 10,000 chosen sponsors.
3. Submit the PGP application to IRCC and pay the necessary fees within the given deadline.
If you are from Quebec, you need to follow the above steps and also acquire a Quebec Selection Certificate. You need to get this certificate from the Quebec government in the final step and submit it to IRCC.
Things You Will Need For the First Step
To submit your sponsorship interest form to IRCC in the first step, you will require one of the two documents:
Digital copy of your Canadian passport, or
Proof of status in Canada, like your PR card.
You will also have to submit information about your family. This will include the total number you wish to sponsor. After the successful submission of the interest form, you will get a confirmation number.
Income Is the Most Crucial Suitability Factor
If you are a Canadian citizen or a permanent resident living in Canada, the primary factor that you need to fulfill for the PGP is income.
You will have to prove that you can meet IRCC's minimum income limit in the last three tax years. This means for the years 2018, 2019, and 2020. This will prove it to them that you can financially support your family members.
In the first step, there is no need for you to show your proof of income.
But, in the last step, you will have to submit your Canada Revenue Agency 9CRA) Notices of Assessment (NOA) to IRCC.
IRCC expects to receive all the 10,000 applications by early 2021. The department will check your income for the past three years, i.e. 2018, 2019, and 2020.
IRCC knows that it may be unlikely for you to have your 2020 NOA by early next year. This is why they will let you submit your 2020 NOA after you submit your sponsorship application.
If you are from outside Quebec, you will find the list of minimum income requirements below.
You need to include the following to count the number of people:
Yourself (Sponsor)
Your common-law partner or spouse. They may also be your co-signer on your application.
Your dependent children
Your partner's or spouse's dependent children
Any other person you have sponsored earlier if you are still financially responsible for them
Parents and grandparents you wish to sponsor
Dependents of the parents and grandparents you will sponsor who you also wish to sponsor (partner or spouse and dependent children)
Any dependent children who will not come to Canada with their parents or grandparents
Your parent or grandparent's partner or spouse even if they do not wish to move to Canada
Any separated spouse of the parent or grandparent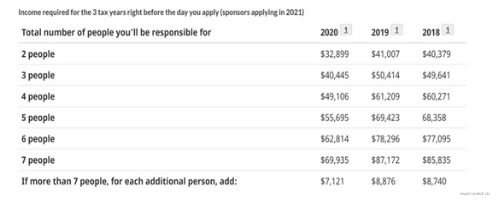 If you are from Quebec, the Quebec immigration ministry will evaluate your income. This will be for a period of the last 12 months. You may include your common-law partner or spouse as a co-signer.
The PGP of 2021 will be almost three times bigger than in 2020. IRCC has said that it will invite a maximum of 30,000 sponsors for the PGP applications next year. Thus, if you fail to be on the list of 10,000 this year, you will get another chance next year.
Contact us to get professional help with your PGP application process.