Canada's immigration department, IRCC, has recently come up with its processing timelines. These timelines will talk about their operational capacity during the global pandemic.
On their website, IRCC has said that people trying to access immigration services may encounter processing delays. These delays will be due to the Covid-19 pandemic.
Applications from people exempt from travel restrictions will get priority from IRCC.
Below you will find a breakdown of their processing times update.
Permanent Residence
According to IRCC, they are working at total capacity to process applications for permanent residence. Nonetheless, there are several backlogs due to the recent pandemic. Thus, there are bound to be some delays.
While IRCC was writing, they did finalize most of the Canadian Experience Class applications (CEC). They received these applications between May 24 and May 30, 2020.
This means that the decision-makers are operating on applications that are ten months old.
PR Cards
If you apply for your Permanent Residency (PR) card, you need to check the online status tool. This will help you see the status of your application.
This online checking applies to:
First-time applicants for PR cards
Renewal of PR cards
Replacement of PR cards
According to the IRCC, you need to gather all your necessary documents and keep your identification numbers handy while logging in.
If you fail to check the online tool, you may try the IRCC webpage. At present, the processing of new PR cards is happening in about 125 days. PR car renewals are happening in around 80 days.
Citizenship
Family

Temporary Workers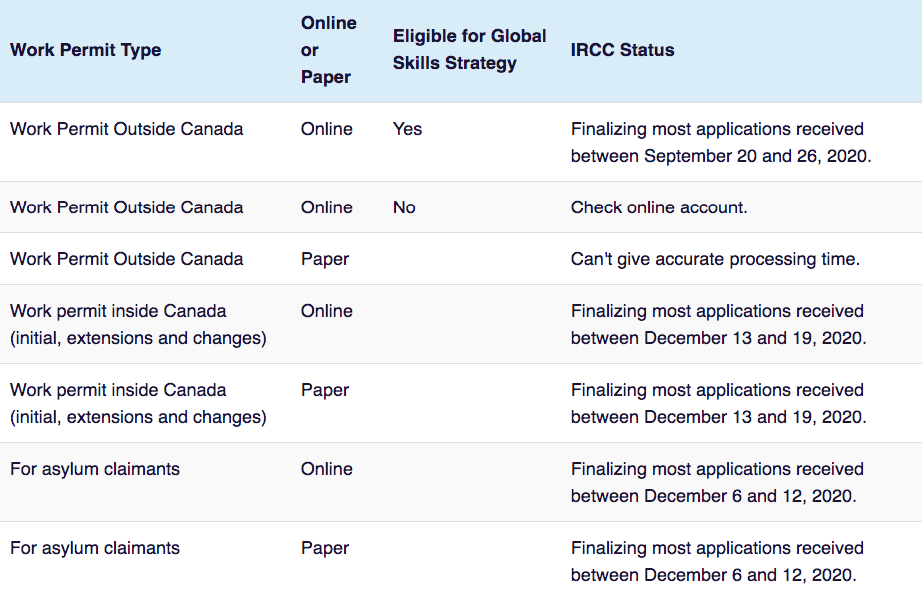 Students
IRCC is presently trying to finalize most of the study permit applications. They received these applications between December 13 and December 19, 2020.
These applications include:
Applications for study permits
Work permit for students
Study permit extensions
It may take longer to process complex applications.
Under the ongoing travel restriction, people with study permits may enter Canada only if they are going to a Designated Learning Institution (DLI). The DLI should have an approved Covid-19 readiness plan.
Students with an approved study permit (before March 18, 2020) may also enter Canada.
Visitors
If you wish to apply for an Electronic Travel Authorization, you need to check the application's status online.
You might sign in to your account if you applied for a Visitor Visa. This will help you check the status of your application. Click on "check status and messages" under the "View my submitted applications or profiles" section.
If you had applied for a visa on paper, you might link your application to an online account. Doing so will allow you to see the application status. You will also receive messages from the IRCC about your application.
Get in touch with us on WhatsApp or Call us at 905-671-4442. You may even email us at info@immigrationterminal.ca if you have any queries about your study permit application.