In its latest Express Entry (EE) draw on March 18, Canada sends out 5,000 invitations to CEC candidates. This proves that the nation is indeed on its way to welcome 108,500 immigrants through the various EE programs.
Recipients of the invitation had to be eligible for the Canadian Experience Class (CEC) with a minimum score of 449. Those who had this minimum score were eligible to receive the Invitation to Apply (ITA).
Other basic eligibility requirements for the CEC were:
Full-time skilled work experience in Canada for a year.
Intermediate official language skills.
Those with a minimum score of 449 had to submit their EE profile before February 19, 2021, UTC. This was to be included in the draw. This was as per the tie-breaker rule.
The new CEC-only EE draw proves that IRCC continues to prioritize in-Canada immigration applicants. This is as long as the travel restrictions continue across the nation.
Close to 77% of all the EE applicants in Canada are suitable for the CEC. This is as per IRCC data from March 8.
According to Attorney David Cohen, Senior Partner of Campbell Cohen, "While travel restrictions are still in place, the federal government has opted to focus on Express Entry candidates who are already in Canada to meet its immigration targets for 2021. IRCC has been doing this by holding PNP- and CEC-specific draws."
The primary target of the EE draw on March 17 was the PNP candidates. This is another group that has a possibility of having strong ties to Canada.
Candidates from the PNP-only group have proven to their chosen regions that they can support the regional labor markets. These candidates receive higher CRS scores since receiving a PNP means getting an additional CRS score of 600 for EE candidates.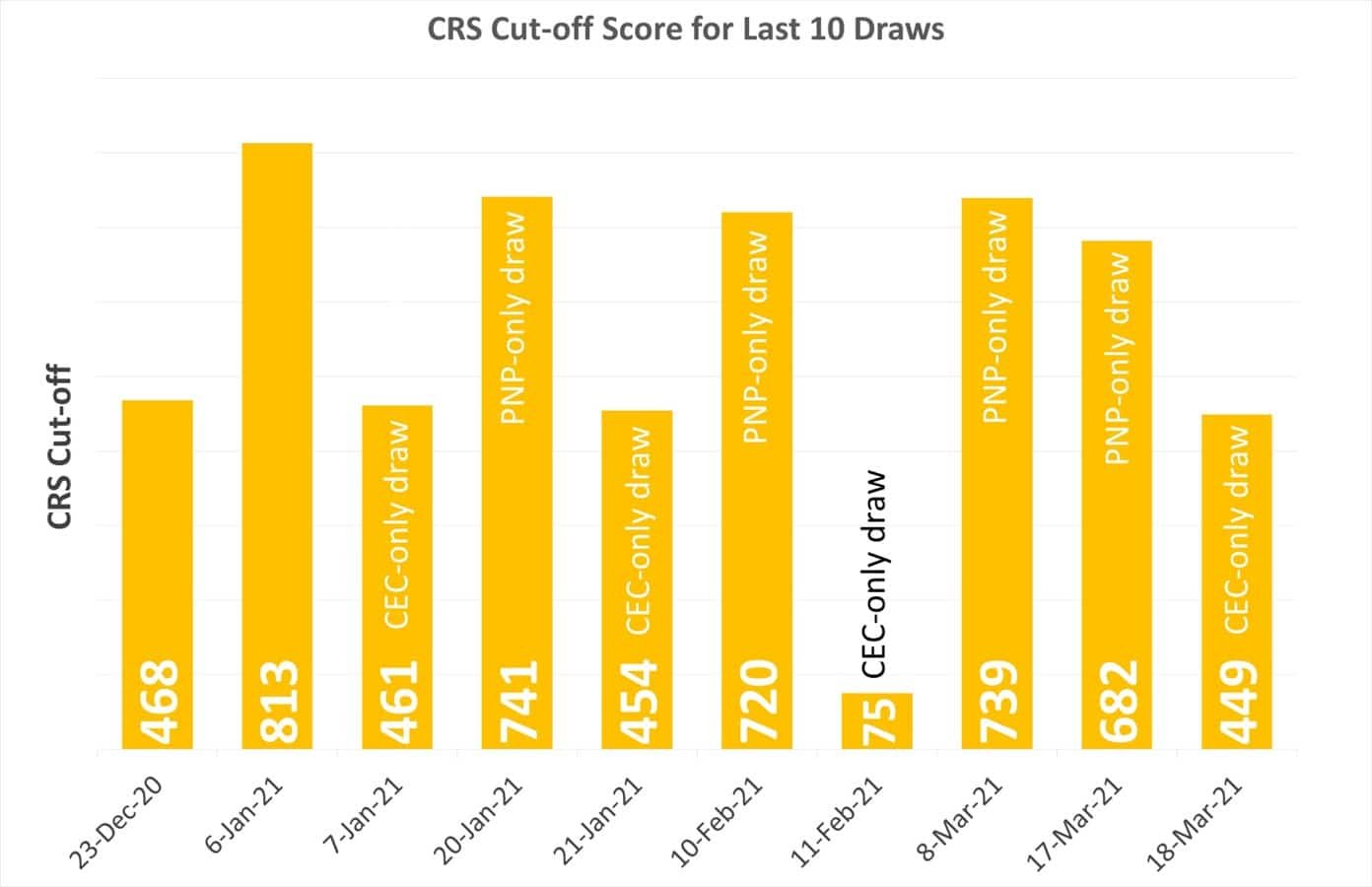 This is the first-ever CEC-only draw since February 13. IRCC had sent an ITA to every single CEC-eligible applicant from the EE pool in the February 13 draw. It was a total of 27,332 immigration applicants.
Due to this historic draw, the total number of ITAs issued this year has already reached 43,840. Last year at this same time, there was a total of 19,368 ITAs given by IRCC.
To compensate for the lack of new PR holders last year, Canada decided to invite 401,000 newcomers this year. Out of those, around 108,500 will be from the various EE-managed programs.
Express Entry
Express Entry is not an immigration program. It is more of an application management system for the three primary programs under the Federal High Skilled category:
Federal Skilled Worker Program
Canadian Experience Class
Federal Skilled Trades Program
For any skilled worker to get into the EE pool of candidates, they need to be eligible for any one of the above three programs. If this is possible, the person will receive a Comprehensive Ranking System score.
This score provides points to candidates based on several factors, such as:
Age
Education
Work experience
Language proficiency in French and English
Other factors
Those with the highest score receive an ITA for Canadian permanent residence.
Get in touch with us on WhatsApp or Call us at 905-671-4442. You may even email us at info@immigrationterminal.ca if you have any queries about your permanent residence application.