On March 17, Canada sent out invitations to 183 Express Entry applicants to apply for permanent residence.
IRCC invited those who had a minimum CRS score of 682. This score may seem high to many people. However, this high score was a deliberate move since all the applicants are previous recipients of a PNP nomination.
Express Entry applicants, who receive a provincial nomination, always receive 600 additional points. This is over and above their original human capital score.
In other words, those with a minimum score of 682 will have an original CRS score of 82 without a PNP nomination.
The inclusion of candidates with a minimum score of 682 was subjected to their Express Entry profile submission before March 4, 2021. The time for the submission as per the tie-break rule was 16:56:20 UTC.
IRCC announces the cut-off time for the tie-break rule, which is an administrative requirement. This announcement is irrespective of an actual tie.
The March 17 PNP-specific draw is the second in a row. There was a similar draw on March 8 in which Canada sent out 671 invitations to PNP candidates.
According to attorney David Cohen, Senior partner of Campbell Cohen, "This is a rare occasion of IRCC holding two consecutive PNP draws. This suggests IRCC is committed to helping provinces and territories address their labor market needs as much as possible during the pandemic."
So far, in 2021, Canada has sent 38,840 Invitations to Apply (ITA). This is nearly three times higher than the number issued same time in 2020.
Due to the lesser number of newcomers last year, Canada decided to invite 401,000 immigrants this year. Canada has agreed to allow most of the available spots for Express Entry immigrants.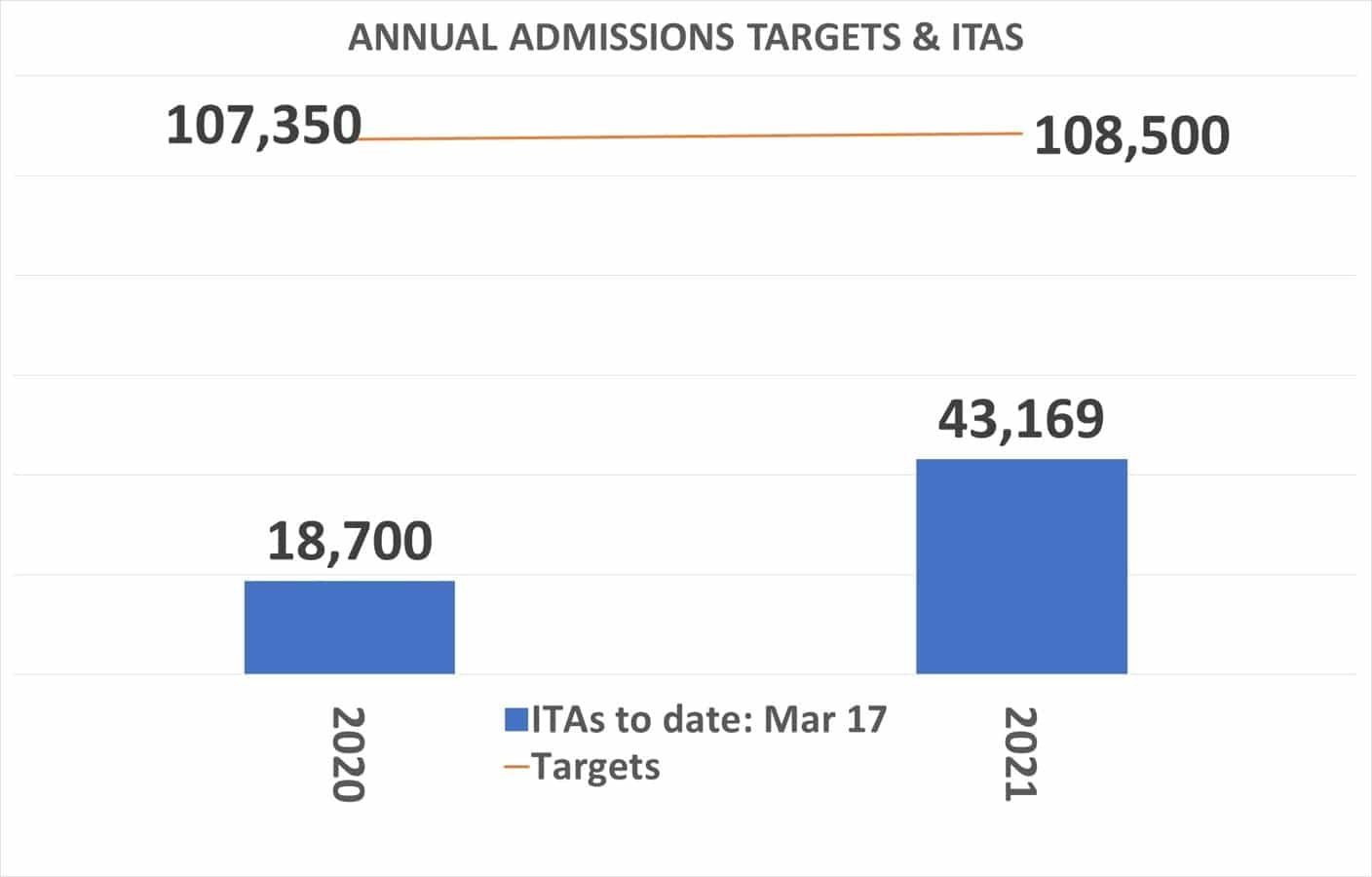 Most of these invitations are from February 13, when IRCC had sent 27,332 ITAs. Apart from being the biggest ever Express Entry draw, it had an extremely low CRS score requirement of just 75.
This made it possible for every Express Entry candidate to get an ITA for permanent residence in that draw. These candidates were eligible for the Canadian Experience Class.
Express Entry
Express Entry is an application management system in Canada for three federal immigration programs:
Federal Skilled Worker Program
Federal Skilled Trades Program
Canadian Experience Class
Those eligible for one of these programs will receive a Comprehensive Ranking System score (CRS). Several factors determine this score:
Education
Age
Language skills in English and French
Work experience
There are some points that you need to remember about the Express Entry application:
You may apply as a couple or a single person.
Although you do not require a job offer, it will fetch you extra points if you have one.
You need not have prior Canadian work experience or Canadian education. However, during the global pandemic, IRCC is giving importance to applicants who are already in Canada.
Those, who score the highest, receive an ITA for permanent residence. This will be through regular Express Entry rounds of invitation.
After applying, IRCC will decide whether you will get the final approval for permanent residence or not. If you do get support, you will receive a Confirmation of Permanent Residence.
The last step for approval of permanent residence is to complete the landing process in Canada. You need to apply for the PR card.
Once you complete all these steps, you will officially become a Canadian permanent resident. With time, you may apply for citizenship.
Get in touch with us on WhatsApp or Call us at 905-671-4442. You may even email us at info@immigrationterminal.ca if you have any queries about your permanent residence application.