The government of Canada released its Annual Report to Parliament on Immigration 2020. This release will provide the public and the Parliament a sketch of the newest immigration developments in Canada.
Both Canada's Immigration Levels Plan and the Annual Report were released together.
Canada aims to welcome more than 400,000 newcomers every year. This will be under its 2021-2023 Immigration Levels Plan.
The Annual Report will shed more light on this matter. It will disclose the tactics of the federal government to achieve this immigration goal.
Here are 4 basic highlights from the Annual Report.
Canada Sent Out Invitations to More Than 1 Million Immigrants Last Year
In 2019, Canada sent out more than 1 million invitations to newcomers and study and work permit holders. More than 341,000 immigrants went on to become permanent residents.
There were more than 400,000 study permit holders. An additional 400,000 were also working permit holders.
This works as a reminder that the majority of Canadian immigrants do not arrive as permanent residents. In fact, they arise on a temporary basis.
Thanks to the 2021-2023 Immigration Levels Plan, the number of admissions for Canada's permanent resident will now rise.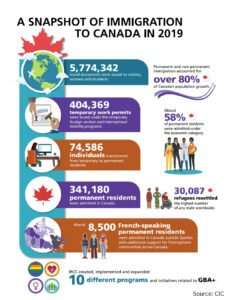 There Was an Arrival of Almost 200,000 Newcomers under the Economic Class In 2019
Canada invites almost 60% of its permanent residents under the economic class. This data will remain the same under the 2021-2023 Immigration Levels Plan.
Canada sent out invitations to close to 200,000 immigrants in 2019 under the economic class. Out of these, more than 90,000 arrived through Express Entry (EE).
The arrival of a majority of the EE immigrants (71%) was in Ontario. The second spot was British Columbia (17%) and the third was Alberta (8%).
The Provincial Nominee Program (PNP) is there to take care of the disproportionate number of newcomers going to the largest provinces of the country. One of the primary aims of the PNP is to inspire immigrants to settle in other smaller provinces.
The PNP reports a major chunk of the economic class newcomers to most of the Canadian provinces and territories. Some provinces, like PEI, Newfoundland and Labrador, Manitoba, Yukon, Saskatchewan, and the Northwest Territories are heavily dependent on PNP.
In all, provinces like Saskatchewan, Manitoba, Ontario, BC, and Alberta enjoyed comparable levels of 2019 PNP admissions.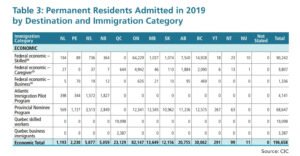 IRCC Is Dealing With Family Class Pile-Ups
The IRCC was making some progress in dealing with family class pile-ups before the pandemic. This is shown in the Annual Report. Of the 90,000 and above newcomers that set food in Canada under the family class last year, close to 90,000 came under the spouses, partners, and children category.
Within 12 months from receiving the family class applications, the IRCC follows a standard of processing them.
According to the report, by the end of 2015, Canada had a pile-up of 77,000 applications under the spouses, partners, and children category.
This backlog had a processing time of 21 months. By the end of 2019, this decreased to 13 months.
There was a decrease in the processing speed due to the coronavirus pandemic. Nonetheless, IRCC made an announcement in September that it will target to quicken the processing speed. They will aim at processing 6,000 spousal sponsorship applications each month till the end of this year.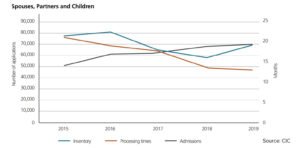 Canada to Welcome More French-Speaking Newcomers
In order to strengthen Canada's Francophone character, IRCC will aim at inviting more French-speaking newcomers. This will be one of the prime goals for the department.
In recent times, IRCC could not attract as many French-speaking immigrants as it would have liked outside of Quebec. They have come up with several efforts to overcome this problem in the last few years.
A few days back, IRCC made some changes to its points system. This change will help French-speaking EE candidates get more points.
Additional efforts by the department include investing more money in settlement preparations and launching a Francophone Immigration Strategy.
Last year, there was an increase of French-speaking newcomers by 1% outside of Quebec. Although this is a pretty low increase, it still represents a bigger increase than in other recent years.
At this progress rate, Canada will achieve its French-speaking immigration goal of 4.4% of newcomers settling outside Quebec by 2023.
Get in touch with us on WhatsApp or Call us at 905-671-4442. You may even email us at info@immigrationterminal.ca if you have any queries about your Canadian immigration application.