Canada sent out 27,332 applicants' invitations to apply for permanent residence. This was the nation's historic Express Entry (EE) draw ever.
IRCC sent out invitations to candidates from the Canadian Experience Class (CEC) on February 13. There was no match for this EE invitation round. The applicant just had to have a CRS score of a minimum of 75. This was also the lowest CRS requirement ever in the history of EE draws.
Attorney David Cohen, Senior Partner of Campbell Cohen went on to say, "Today's draw was almost six times larger than the previous Express Entry record of 5,000 ITAs. This goes to show Canada is committed to achieving its goal of welcoming over 400,000 immigrants this year."
5,000 Invitations to Apply (ITAs) were issued in each EE draw between November 18 and December 23, 2020. There were a total of 4 EE draws held in this period.
Earlier, the lowest CRC cut-off was 199 points in the EE draw held on May 16, 2017. Invitations to Federal Skilled Trades Program applicants were just sent in that draw. EE was officially launched in January 2015.
Canada held an EE draw last Wednesday in which they sent out 654 invitations to PNP candidates. These candidates were given a chance to apply for permanent residence, thus, bringing the total to 27,986 ITAs this week.
IRCC started the tie-break rule. According to this rule, applicants with a minimum score of 75 were only included if they successfully submitted their EE profile. The deadline for this was by September 12, 2020, at 15:31 UTC.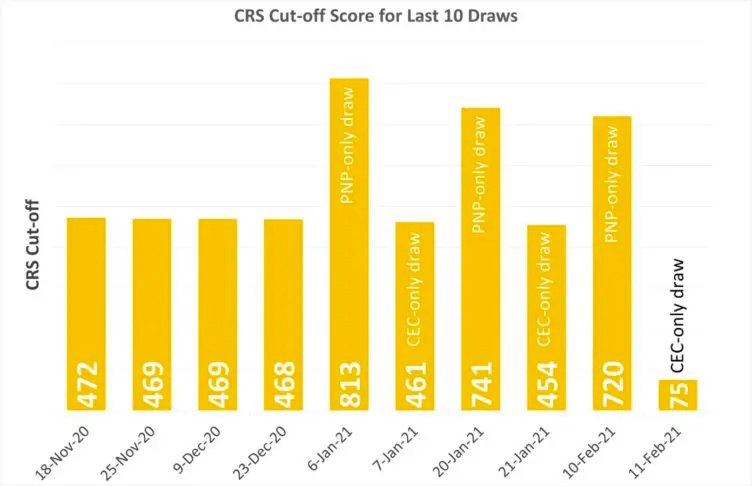 The recent EE draw proves the level of commitment of IRCC when it comes to achieving its target of 401,000 newcomers this year. Out of those, they are targeting to welcome 108,500 candidates through their EE-managed programs. This is according to their 2021-2023 Immigration Levels Plan.
By next year, this target will increase to 110,500 and by 2023 it will further increase to 113,750. The largest share of newcomer allocations for the coming 3 years was given to the Federal High Skilled programs by Canada. The EE system manages these programs.
This points out the fact that the EE system will continue to be the primary source of newcomers for Canada in the coming future.
According to Marco Mendicino, Canada's Immigration Minister, IRCC will make all the efforts to fulfill their aspiring immigration targets. They will do so by transitioning a bigger number of temporary residents to permanent residents during the recent pandemic.
The recent unmatched draw seems to specify that IRCC is targeting to send out as many invitations as possible during the beginning of this year. This will help them complete their permanent residence targets of successful EE applicants later this year.
This will offer IRCC a bigger opportunity to meet its immigration levels target in the middle of the prevailing global Covid-19 disruptions.
Mendicino and IRCC also stress the fact that they are open to the global talent that includes those presently outside Canada. This will support the country's post-pandemic recovery.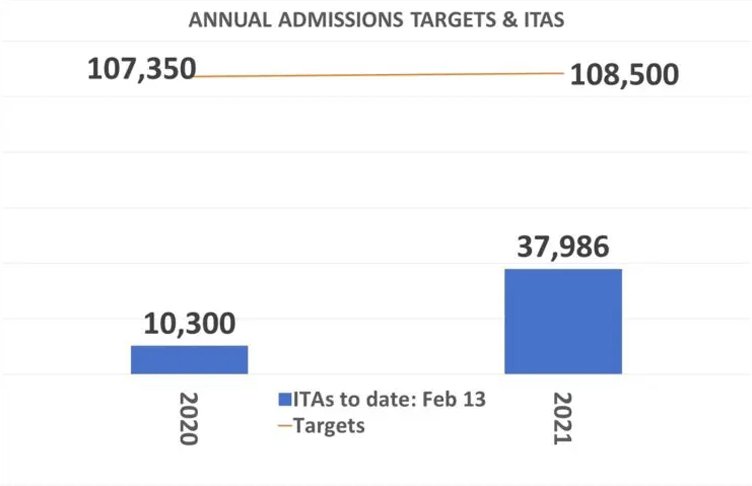 What Is The Express Entry (EE) System Of Canada?
The Canadian EE system is not an immigration program. It is an application management system for three different programs under the Federal High Skilled category:
Federal Skilled Worker Program
Federal Skilled Trades Program
Canadian Experience Class
For anyone to get into the EE pool of applicants, skilled workers have to ensure that they are suitable for any one of these programs. If this is possible, they will receive CRS scores that will be based on numerous factors, like age, work experience, education, and language proficiency in French or English amongst many more factors.
Those who receive a provincial nomination through a PNP will get additional CRS points of 600. This will basically guarantee their receipt of an ITA in an EE draw.
IRCC holds EE draws once every two weeks. They invite EE applicants to apply for permanent residence in Canada. The country is yet to hold an all-program draw this year.
The all-program draw will include candidates from the Federal Skilled Worker Program. On the contrary, invitations were sent out to PNP and CEC candidates in separate program-specific draws.
Due priority is being given to these candidates during the pandemic as they are more likely to be in Canada by this time. The selection of PNP candidates was made by their respective territories or provinces to fulfill the demands of their local labor markets.
CEC candidates are more or less already settled in Canada. According to IRCC, almost 90% of CEC candidates presently stay in the country.
These program-specific EE draws were held by IRCC for almost 3 months. This was since the time Canada went into lockdown in March 2020 for the first time.
The department restarted holding all-program draws by September. These draws were held once every two weeks till the end of 2020.
It is quite possible that IRCC will restart holding all-program draws in 2021 during the global pandemic. The department will continue to accept and also process EE applications and welcome skilled workers from foreign nations once travel restrictions are lifted.
Get in touch with us on WhatsApp or Call us at 905-671-4442. You may even email us at info@immigrationterminal.ca if you have any queries about your Express Entry application.